Lindenwood University Wins Division IV Title!
April 11th, 2022 at 12:00PM
April 28th, 2022 2:42AM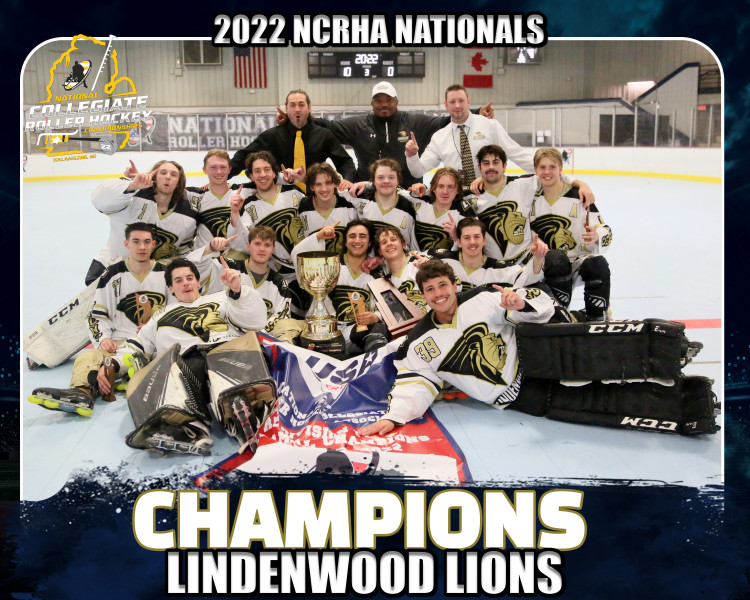 ---
Lindenwood University wins the NCRHA 2021-2022 Division IV National Championship, with a 10-0 win against Slippery Rock University. Lindenwood was led by Connor Bradley (1 G, 3 A), Dillon Dale (1 G, 2 A), Sean Maude (1 G, 2 A) and Brett Worster (3 A), en route to the 10-0 championship win. Goaltender Chase Christopher was perfect, stopping all 8 of the shots faced. Chase posted shutouts in all 3 of the games he backstopped in this year's championship event. Fellow LU goaltender Clayton Davis posted the other 2 wins, allowing just 1 goal in each game.
Lindenwood jumped out early, just 2:06 into the game, with a short-handed goal by Patrick Mahoney, for the eventual game-winner. Aydin Schwetz scored just 1 minute later to go up 2-0. At the end of the 1st it was Lindenwood 5, Slippery Rock 0. The 2nd period saw 3 Lindenwood goals, and the 3rd period saw 2 more. Great team effort by Lindenwood as the majority of the team got in on the scoring.
Well played tournament to both teams and congratulations to the Division IV Champion Lindenwood Lions!
---
If you missed it, all games from the event, including the championship game, are on demand on NCRHA TV.
NCRHA TV is available on most Smart TVs and mobile devices, as well as via browser at www.NCRHA.TV.