Lindenwood University Wins Division I Title!
April 11th, 2022 at 6:45PM
April 28th, 2022 2:41AM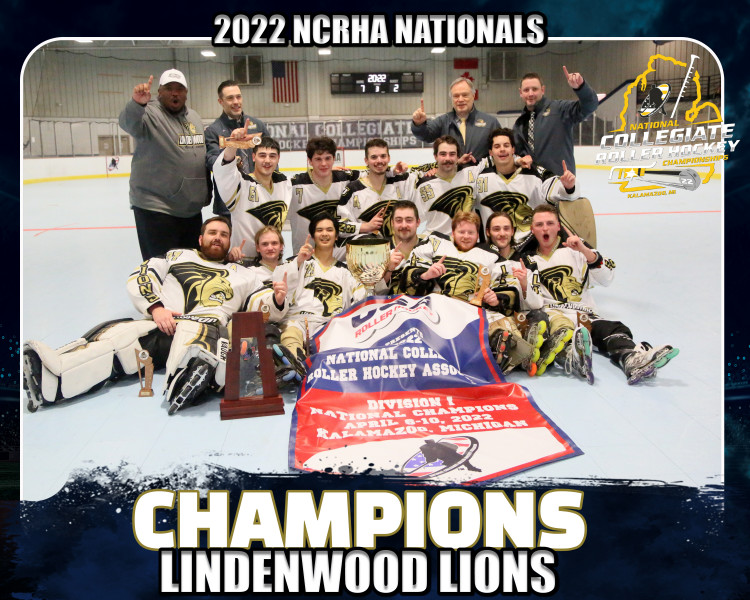 ---
Lindenwood University wins the NCRHA 2021-2022 Division I National Championship, with a 7-2 win against Slippery Rock University. Lindenwood was led by Nicholas DellaMorte (2 G, 2 A), Nicholas Berger (1 G, 2 A), Eric Kurpiewski (2 G) and Brycon Haney-Johnson (2 A) in the championship game. Goaltender Jacob Robinson got the win for Lindenwood, stopping 9 of 11 shots to earn the championship.
Lindenwood got on the board first, with Christian Acosta starting the scoring just over 6 minutes into the game, followed by Kurpiewski's first goal 2 minutes later. Slippery Rock got on the board with 27 seconds remaining in the 1st period with a power play goal from AJ Adamski. Slippery Rock tied the game at 2 with a power play goal from Ian Edwards early in the 2nd period. Just 42 seconds later, Lindenwood's DellaMorte scored his first goal of the game to reclaim the lead. From that point until the end, the game was controlled by Lindenwood, outshooting Slippery Rock 25 to 7 in the final 2 periods. Slippery Rock gave it their all until the very end, pulling the goaltender and putting on the pressure, but Lindenwood would score a couple goals late to seal the win.
Well played tournament to both teams and congratulations to the Division I Champion Lindenwood Lions!
---
If you missed it, all games from the event, including the championship game, are on demand on NCRHA TV.
NCRHA TV is available on most Smart TVs and mobile devices, as well as via browser at www.NCRHA.TV.