Division II Quarterfinal Matchups Set
April 8th, 2022 at 10:57AM
April 8th, 2022 4:00PM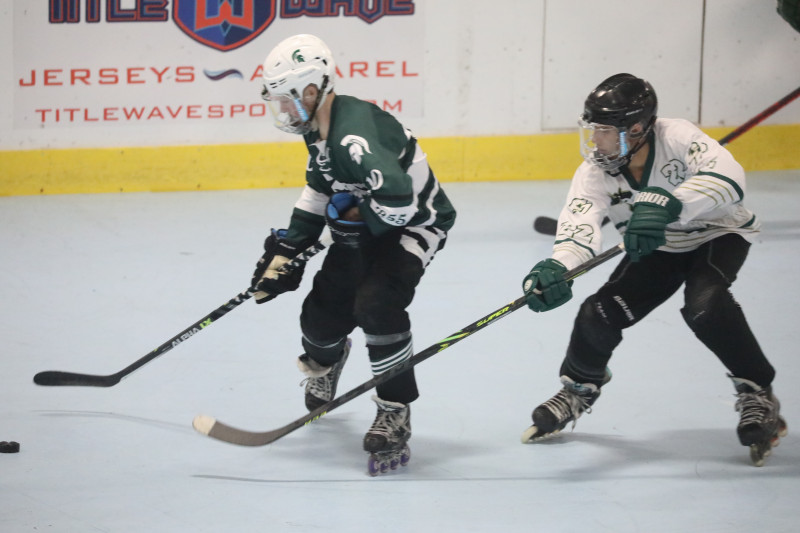 ---
The Division II quarterfinal matchups are set. After all teams completed a 3 game round robin, we move right into the single elimination brackets.
Here is a preview of the Division II quarterfinal matchups:
CSU Fullerton vs. Stony Brook
6:30pm
CSU Fullerton went 2-1 in pool play, defeating UMass 5-3 and Northeastern 6-5 in shootouts. CSU Fullerton is led by Troy Yano, who notched 5 goals and 3 assists in their 3 round robin games. His brother, goaltender Kurt Yano, posted a 2.92 GAA and 85.5 Save %, putting him up there with some elite goaltenders in this tourney.When asked about their play in the Northeastern game, CSU Fullerton Head Coach Matt Han said "Northeastern is a skilled, hardworking team, would've loved to play them more throughout the season. They took the lead early and every time we closed the gap, they were quick to respond. Big respect to our tendy Kurt Yano for keeping us in a tight game, and hats off to his brother Troy Yano…Charter team dub for the fellas!"
Stony Brook went 1-2 in pool play, defeating Northeastern by a score of 6-5. Stony Brook is led by playmakers Anthony Cicchetti (2 G, 6 A) and Sean Hart (2 G, 4 A), and sharpshooter Scot Lawson (4 G, 1 A). Goaltender Stephen Galvin posted an 80.8 Save %, the team will need to find a way to let less shots through in the rest of the tourney.
The winner of the CSU Fullerton/Stony Brook game will face the winner of Michigan State/Robert Morris.
Michigan State vs. Robert Morris
7:30pm
Michigan State went 3-0 in round robin play, defeating Slippery Rock -4, Cal Poly 5-0 and Farmingdale 8-3. MSU played extremely well, led by Cameron Galin (2 G, 5 A), Shane Stoitsiadis (4 G, 2 A), and Grant Burkhard (4 G, 2 A). Goaltender Rob Kowalczyk stood solid between the pipes, posting a 2.33 GAA and 87.5 Save %.
Robert Morris went 2-1 in round robin, defeating Farmingdale 8-4 and Cal Poly 7-5. Roman Kraemer and Giovanni Palombo scored 15 of the team's 19 goals. Goaltender Jarrett Tomazich's Save % was just above 81%, but he faced 90 shots in just 3 games. Similar to Stony Brook, Robert Morris will need to block some shots for the best chance to win.
The winner of Michigan State/Robert Morris will face the winner of CSU Fullerton/Stony Brook.
Massachusetts vs. Northeastern
8:45pm
UMass had a tough round robin, defeating Stony Brook 6-3. Their 2 losses were against extremely tough opponents (Bethel 7-4 loss, CSU Fullerton 5-3 loss). UMass is led by Owen Gallagher, who scored 4 goals and also had 4 assists in the 3 round robin games. Goaltender Aidan Campbell posted an 81% Save %. UMass will need to get scoring from the entire team, seeing as Gallagher factored on 8 of the team's 13 goals.
Northeastern went 0-2-1 in round robin, with a 6-5 shootout loss to CSU Fullerton in their final round robin game. Even their 2 losses were not by much (Bethel 7-4 loss, Stony Brook 6-5 loss). Northeastern's Thomas Keith (4 G, 4 A) and Jason Stitt (4 G, 4 A) led the team, followed by Peter Rydzynski (4 G, 2 A). The scoring is there, and the goaltending is there in the backstop of Dylan Sapienza (77.5 Save %), but as with other teams it's about not letting shots through. Sapienza faced 80 shots in the 3 round robin games.
The winner of Massachusetts/Northeastern will face the winner of Cal Poly/Farmingdale.
Cal Poly vs. Farmingdale
9:45pm
Cal Poly went 0-3 in round robin with losses to Lindenwood, Michigan State and Robert Morris. They are balanced in scoring, as 5 different players have scored in the event, led by Nathan Katzaroff with 2. Goaltender Jack Conlon faced 80 shots in the 3 games, 32 in just the Lindenwood game alone.
Farmingdale likewise went 0-3 in round robin, with losses to the same teams as Cal Poly. Farmingdale is led by Matthew Budington, who had 4 goals in the 3 round robin games. The Farmingdale goaltending duo of Matthew Muccio-Schrimpe and Dean Rotella are up to the task, but will need to see less shots as well.
The winner of Cal Poly/Farmingdale will face the winner of Massachusetts/Northeastern,
--
Stay tuned to www.ncrha.org for live scoring and NCRHA TV for live broadcasts!
NCRHA TV is available on most Smart TVs and mobile devices, as well as via browser at www.NCRHA.TV.