NCRHA Matchups of the Week - January 28-29, 2023
January 26th, 2023 at 11:51AM
January 26th, 2023 6:04PM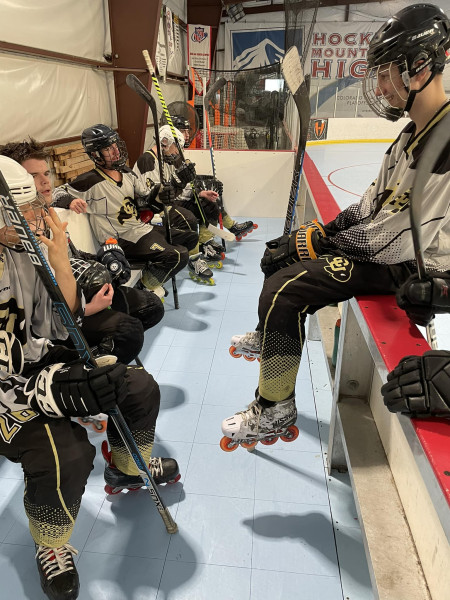 ---
We've got events this weekend from coast to coast, WCRHL events in Oakland, CA and Queen Creek, AZ, MCRHL event in Manchester, MO, and SECRHL in Taylors, SC. The MCRHL, SECRHL, and WCRHL Oakland event feature a ton of Division III matchups, while the Queen Creek, CA event features WCRHL's DI, DII, and Division AA teams. Here are your matchups of the week!
NCRHA Division I Matchup of the Week
Arizona State University vs. Grand Canyon University
Saturday, January 28 – 3pm
Season Head to Head: Arizona State leads season series 2-1
This weekend, Arizona State will face Grand Canyon for the 4th time this season. Arizona State leads the season series 2 games to 1, with a 3-2 loss at the opening event and 2 wins at the next event in Tucson (4-2 and 3-2). Every game between these rivals has been a close game, so we expect this weekend's matchup to be the same. In 8 games this season, ASU has been stingy, allowing only 10 goals in 8 games. GCU is not far behind, allowing only 18 goals in 8 games (just over 2 goals per game), but having increased offense, with 43 goals in 8 games (averaging over 5 goals per game). The majority of games played by these 2 teams against each other and WCRHL Division II opponents have not been blowouts (the largest margin a 7-0 GCU win against Cal Poly).
Some roster additions by GCU for 2nd semester may influence how this game and the rest of the season goes for GCU. Aydin Schwetz leads GCU scoring (18 goals, 5 assists), followed by Logan Estes (11 goals, 3 assists), and Brydon Frisk (5 goals, 9 assists), while goaltenders Guido Pacheco and Eric Buchholz are a great backstop. Arizona State's balanced scoring features 5 players between 4 and 6 goals, and goaltender Lane Hartwell continues to be one of the best in the country, begin #2 in the nation in GAA with a 1.24 GAA as well as #1 in Save % with a 93.8%.
After this weekend, both teams travel to Palatine, IL to face MCRHL opponents like Bethel, Lindenwood, Henry Ford and Michigan State. They will then close out the season on Feb. 18-19 in Corona, CA with a 5th and final matchup against each other, plus various other WCRHL opponents.
NCRHA Division II Matchup of the Week
University of Arizona vs. CSU Fullerton
Saturday, January 28 – 1pm
Season Head to Head: Arizona leads season series 1-0, with a 6-2 win on Oct. 30
University of Arizona will face CSU Fullerton for a 2nd time this season, out of 3 total matchups for the year. U of A won the first game by a score of 6-2, led by Dylan Smith who had a 6 point game (5 goals and 1 assist). U of A sits in 1st place in the WCRHL Division II Standings, with 5 wins, 2 losses and 1 overtime loss. CSU Fullerton sits 3 points behind, as they are 4-4 on the season. Dylan Smith has cracked the nationwide top 5 in goals scored with 22, while Hudson Fox is right behind in 7th with 20.
U of A will also face Grand Canyon (DI), Arizona State (DI) and Cal Poly this weekend. CSU Fullerton will play 3 games, also playing Arizona State (DI) and Grand Canyon (DI). The teams will then play in 1 more event this season, Feb. 18-19 in Corona, CA where they will face each other as well as round out their season against other WCRHL DI, DII, DIII and AA opponents.
NCRHA Division III Matchup of the Week
University of Colorado vs. UC Santa Barbara
Saturday, January 28 – 11am
Season Head to Head: 0-0, teams have not yet met this season
These teams met in the 2021-2022 regular season, when Colorado traveled to Corona, CA to face multiple WCRHL Division III opponents. Their trip was successful, defeating UCSB and 2 other DIII opponents, and only losing to a Northern Arizona DII squad. The CU vs. UCSB matchup was a 4-3 CU win, decided on the power play early in the 3rd period on a goal from Zachary Goble.
Both teams lead Division III standings in their conference. UCSB returns much of that 2021-2022 roster, while CU returns many of the same players, however not Goble. We will see how CU's Austin Granmoe, Jason Rieger and Owen Bower match up against UCSB's Brad Price and company, and how that affects the next NCRHA Coaches Poll. Other than the UCSB matchup, CU plays San Jose State, Cal Poly Pomona and Cal Poly Pomona's affiliate team.
After this weekend, UCSB will close out their season in Corona, CA while CU has 2 remaining events (Denton, TX on Feb. 4 and Parker, CO on Feb. 18).
NCRHA Division AA Matchup of the Week
University of Arizona vs. CSU Fullerton
Saturday January 28 – 8am
Season Head to Head: Arizona leads season series 1-0, with a 5-4 shootout win on Oct. 30
Arizona leads Division AA teams out West, with a 5-3 record. CSU Fullerton is just 1 point behind, with a 4-3-1 record. Arizona State is just behind CSU Fullerton, with all 3 teams in action against each other this weekend. The standings could rearrange themselves at any point or at multiple points this weekend.
The first time these 2 teams met it was U of A with the 5-4 shootout win. A game where CSU Fullerton got up early 3-0, and Arizona battled back throughout to tie it up with 40 seconds left, forcing the OT. A scoreless overtime meant the game would be decided in a shootout and it was U of A's Theo Hannah who got the shootout goal to end it all.
CSU Fullerton's Caden Fehr, Ezra Gale and Ethan Kreller top the scoring chart, followed by U of A's Tyler Pear. U of A goaltender Ethan Valentine leads the division in all aspects, 83.7 Save %, 3.48 GAA, 144 Saves and 5 Wins. CSUF goaltender Samantha (Kat) Reyes is 2nd in both Saves with 109 and Wins with 3.
NCRHA Cross-Divisional Matchup of the Week
Missouri S&T (DIII) vs. Lindenwood Black (AA)
Saturday January 28 – 1pm
Season Head to Head: Lindenwood Black leads season series 1-0, with a 7-4 win on Nov. 5
Lindenwood AA Black plays a full DIII schedule this coming weekend in Manchester, MO, including games against Illinois State, Kansas State, Maryville, Siu – Edwardsville, and Missouri S&T. The first time LU Black played Missouri S&T, it was a 7-4 win for the Lions, the closest any MCRHL DIII team has come to this LU squad.
LU Black has several players above or hovering around the 20 point mark, good for 2 points plus per game. Jonathan Chappell is their #1 goaltender and is 5-0 on the season.
Missouri S&T is 8-1 on the season, with only the Nov. 5 loss to LU Black. In DIII competition, their closest competition has been Kansas State, in a 4-3 game back in November. Missouri S&T will play Kansas State, LU Black, Florida Gulf Coast, Louisiana Tech and Truman State this coming weekend, a list of teams that are all over the map, literally. S&T is led by Blake Becker, with 24 goals and 10 assists in just 8 games and Tyler Bradley with 17 goals and 14 assists in 8 games as well. Goaltender Kyle Chernich is 7-1, playing in every S&T game so far this season.