2023 All-Tournament Teams Announced!
Most Valuable Player, Most Valuable Goaltender, and Playmaker chosen for each division!
May 11th, 2023 at 11:31PM
May 12th, 2023 6:01PM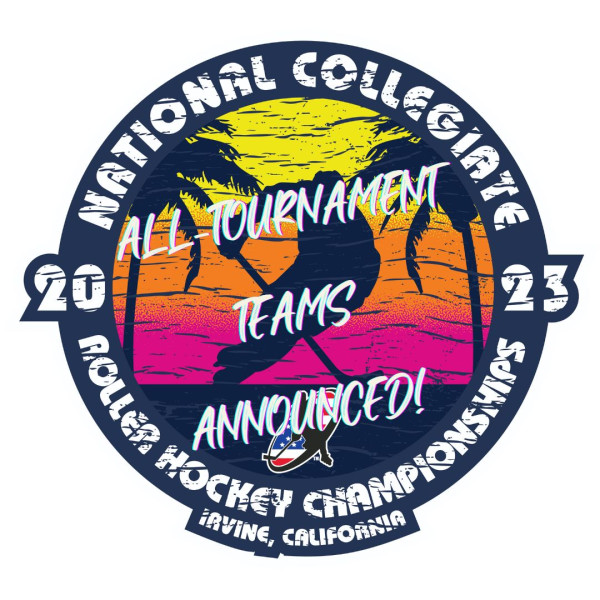 ---
Congratulations to all the teams and student athletes who participated at the 2023 National Collegiate Roller Hockey Championships in Irvine, California. The NCRHA would like to further recognize the following players, who have earned the honor of being selected for the 2023 All-Tournament Team. Congratulations to all!
DIVISION I
1st Team:
Jackson Wozniak - Lindenwood University
Ruben Gonzalez – Grand Canyon University
Christian Acosta - Lindenwood University
Connor Bradley – Lindenwood University
Jacob Robinson - Lindenwood University
2nd Team:
Nicholas DellaMorte - Lindenwood University
Matthew Hawkins – Farmingdale State College
Ian Edwards – Slippery Rock University
Tyler Blaszkowski – Henry Ford College
Lane Hartwell – Arizona State University
Most Valuable Player: Christian Acosta - Lindenwood University
Most Valuable Goaltender: Lane Hartwell - Arizona State University
Playmaker: Connor Bradley – Lindenwood University
DIVISION II
1st Team:
Lukas Miller – The Ohio State University
Giovanni Palombo – Robert Morris University
Robert Strianese – The Ohio State University
Derek Le – Cal Poly San Luis Obispo
Louie Garcia – The Ohio State University
2nd Team:
Jason Stitt - Northeastern University
Noah Sargent – University of Massachusetts
Owen Gallagher – University of Massachusetts
Justin Stergos – Endicott College
Michael Metcalf – University of Massachusetts
Most Valuable Player: Lukas Miller – The Ohio State University
Most Valuable Goaltender: Louie Garcia – The Ohio State University
Playmaker: Robert Strianese – The Ohio State University
DIVISION III
1st Team:
Zachary Deemer – Neumann University
Andrew McGinley – Neumann University
Anthony Putter – Neumann University
Vinson Guigliano – Quinnipiac University
Andrew Miller – Quinnipiac University
2nd Team:
Matthew Augustine – Cal Poly Pomona
Mason Martinez – Colorado State University
Lewie Schacht – University of Florida
Britt Bischoff – Hofstra University
Noah Maikisch – Neumann University
Most Valuable Player: Zachary Deemer – Neumann University
Most Valuable Goaltender: Noah Maikisch – Neumann University
Playmaker: Andrew McGinley – Neumann University
AA DIVISION
1st Team:
Patrick Moore – University of Arizona
Landon Kooker – Lindenwood University
Dillon Dale – Lindenwood University
Cameron Rodriguez – Lindenwood University
Clayton Davis – Lindenwood University
2nd Team:
Price McDonald – Slippery Rock University
Bryce Pierce – Lindenwood University
Cade Wheeler – Slippery Rock University
Christian Michalowski – University of Arizona
Ethan Valentine – University of Arizona
Most Valuable Player: Landon Kooker - Lindenwood University
Most Valuable Goaltender: Clayton Davis - Lindenwood University
Playmaker: Dillon Dale - Lindenwood University
Division I Honorable Mention:
Matt Cornish – Arizona State University
Logan Corrigan – Arizona State University
Gavin Davis – Bethel University
Trevor Haertl – Bethel University
Zach Hoffman – Bethel University
Ryan Ro – Bethel University
Jason Santoriello – Bethel University
Kyle Wedbush – Bethel University
Matthew Budington – Farmingdale State College
Michael Muccio-Schrimpe – Farmingdale State College
Luciano Signoretti – Farmingdale State College
Sean O'Donnell – Farmingdale State College
Brydon Frisk – Grand Canyon University
Guido Pacheco – Grand Canyon University
Aydin Schwetz – Grand Canyon University
Carter Pattenaude – Henry Ford College
Marky Hager – Lindenwood University
Brycon Haney-Johnson – Lindenwood University
Sean Maude – Lindenwood University
Clayton Liefeld – Lindenwood University
Parker Winkelmann – Lindenwood University
Brian Cutler – Rowan University
Michael Lieze – Rowan University
Logan Johnson – Slippery Rock University
Jacob Roman – Slippery Rock University
Justin Symons – Slippery Rock University
Matthew Vrankovich – Slippery Rock University
Division II Honorable Mention:
Hudson Fox – University of Arizona
Jack Sapra – University of Arizona
Dylan Smith – University of Arizona
Ethan Zorbas – University of Arizona
Nick Blakewell – Cal Poly San Luis Obispo
EJ Gabriel – Cal Poly San Luis Obispo
Nicholas Norcia – Cal Poly San Luis Obispo
Ethan Vernik – Cal Poly San Luis Obispo
Braden Brown – SUNY Cortland
Michael Luzopone – SUNY Cortland
Michael Miano – SUNY Cortland
Michael Rovinsky – SUNY Cortland
Ryan Tuckwood – CSU Fullerton
Kurt Yano – CSU Fullerton
Colby Ciffolillo – Endicott College
George Gatzoulis – Endicott College
Nick Kavanaugh – Endicott College
Brian McDonald – Endicott College
Owen Connolly – University of Massachusetts
Michael Curtin – University of Massachusetts
Quinn Mulligan – Northeastern University
Peter Rydzynski – Northeastern University
Dylan Sapienza – Northeastern University
Jake Cook – The Ohio State University
John Mascitelli – The Ohio State University
Bradley Ryniawec – The Ohio State University
Roman Kraemer – Robert Morris University
Jarrett Tomazich – Robert Morris University
Shane Yobbi – Robert Morris University
Anthony Samarkos – University of Tampa
Demitri Samarkos – University of Tampa
Jeffrey Gross – Temple University
Jerry McGeoy – Temple University
Division III Honorable Mention:
Justin Davids – Boston University
John McKaughlin – Boston University
Brayden Fleming – Cal Poly Pomona
Alex Masini – University of Colorado
Keegan Barker – Colorado State University
Kaden Lelli – Colorado State University
Braden Follenius – University of Florida
David Stenzel – University of Florida
Jared Thompson – University of Florida
Phillip Vanderlaat – University of Florida
Shane Katen – Florida Gulf Coast University
Matthew Redfering – Florida Gulf Coast University
Collin Ewald – Hofstra University
Jacob Otto – Illinois State University
Sean Scanlon – Maryville University
Blake Becker – Missouri S&T
Kyle Chernich – Missouri S&T
Brian Barnett – Neumann University
Nicholas Pullano – Neumann University
Frank Alessi – SUNY Oswego
Matthew Quast – SUNY Oswego
Gianlucia Chiodi – Quinnipiac University
Stephen DiGiovanna – Quinnipiac University
Nicholas Dimitrakiou – Quinnipiac University
Nicholas Monfredo – Quinnipiac Univrsity
Tim Ribadeneyra – Quinnipiac University
Eli Bloom – University of Rhode Island
Christian Sannicandro – University of Rhode Island
Colby Benway – Rochester Institute of Technology
Martin Hoffnagle – Rochester Institute of Technology
Andrew Martins Rodriguez – UC Santa Barbara
Brad Price – UC Santa Barbara
Gabriel Frigo – University of Vermont
Benji Froom – Yeshiva University
Zachary Levy – Yeshiva University
Michael Mintz – Yeshiva University
AA Division Honorable Mention:
Grant Marcy – University of Arizona
Tyler Pear – University of Arizona
Ethan Briggs – Arizona State University
Jacob Crayne – Arizona State University
Zack Dartez – Arizona State University
Miles Gurrola – Arizona State University
Ethan Kreller – CSU Fullerton
Samantha Kat Reyes – CSU Fullerton
Connor Bowden – Farmingdale State College
Alessandro Costantino – Farmingdale State College
Dean Rotella – Farmingdale State College
Frankie Saracino – Farmingdale State College
Sean Soto – Farmingdale State College
Nicholas Valentine – Farmingdale State College
Chase Christopher – Lindenwood University
Nils Thegerstrom – Lindenwood University
Kade Uetz – Lindenwood University
Trevor West – Lindenwood University
Reis Davis – Michigan State University
Parker Young – Michigan State University
Chris Bobuk – Slippery Rock University
Nick Hultz – Slippery Rock University
Cameron Miller – Slippery Rock University
Clayton Williams – Slippery Rock University
Mark Elfond – University of Massachusetts
Benjamin Thomas – University of Massachusetts